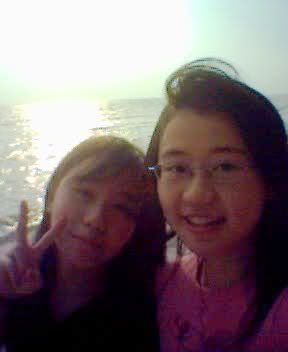 My sister was busy infront of the pc, and i was in the same room with her cracking my head out to complete my mini project's report. Silent was dominating the room, which i obviously going cuckoo with the tensed situation. Suddenly, i broke the silence," wanna go morib?" Without much second toughts, she agrees. Guess she wasnt having much fun with the pc also. Nyek nyek.
Once reach, i quickly bought myself a cone of ice-cream. Yeap, those ice-cream sold by those motorbikers, with the nostalgic sound of ice-cream bell! Sis was busy chewing on corns. Walk around the beach, snap some blurred picture with my phone. the wind the sunset, plain awesome. hihi..
But wat was coming more even surprising. We decided to drive to another side of the beach where there are more sand. We were driving in my kancil, noticed that so many cars are driving towards a deserted road. "Wanna follow them?" Hell yes!! The road was straight,narrow, long, looks like there's no ending to the road, and drivers in other cars seem to noe where are they going. But I didnt care too much, coz the scenery by the road was fabolous. Forgive me i cant describe with beautiful english.There were coconut trees lining up along the road, swaying welcoming our arrival, and the oceans, the waves, and still the sun set!!everything seems to be so harmony and peaceful. Finally, the seem nv ending road comes to an end. It leads to a very large empty place, where there are scattered of malay stalls by a beautiful beach. Too bad we were too late for the kayaking. Nxt time!
We were happy for the discovery. Find one day, shud really go for the kayaking. In the end of day, we do what we always do the best. Finding food to cure our tummy! Chew on our food in our mouth, still happy we found a great place!! Perfect day!