Saw his name some time ago in the newspaper. Recognize him by his famous picture featuring a 12 year-old refugee on the Afganistan-Pakistan border. That picture is National Geogrphic 100 Best pictures. It seem that he immotarlized the haunted eyes of that girl. After two decades, he was able to locate that girl again and that was the only two pictures that the girl had ever taken. Here are some of his marvelous work.
haunted!
Hush lil' boy, do not play with gun!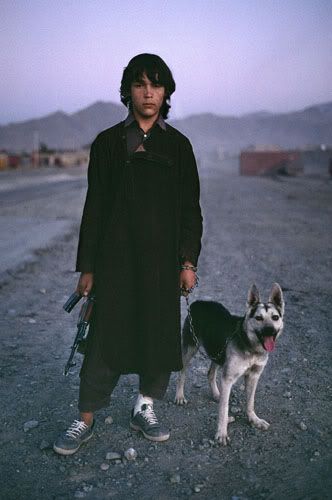 What can you do with a dog and a gun?
Picture with revolution influence but less diabolism.
You can visit
his work
here, but then, a friendly advice is that you do no visit it during your depressed moment, seeing all his pictures that potray the ppl around the world who are suffering from war or other catastrophe makes you feel even more vulnerable. Anyway, I wonder had I breach the copyright act by posting up his photograph here? =_="